Alien Outbreak Escape Room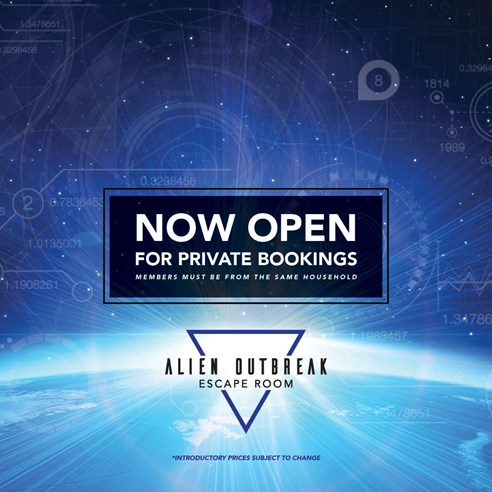 Large Alien Outbreak Escape Room Guidelines:
Alien Escape room will be open the same as Ed's Bowling Hours
$25/ person to a maximum group of 6 people 
Pre-game Introduction by a staff member will be done outside the room, before your group enters.
We recommend participants are from the same household to ensure social distancing is maintained 2 meters apart inside the room.
During the pre-show, a staff member will go to the operating booth and will stay there until the game is over to monitor the game.
Each room is sanitized after every use and will have a 15 minute interval period before a next group is brought in. There will be a half an hour interval for each admission for cleaning purposes.
Sanitizer is available upon entry.

Take your place as a part of Team Hermes 7 at our newest attraction, Alien Outbreak Escape Room. Investigate what happened to the crew of Moon Colony Persephone before you run out of oxygen - or worse.

Each session can accommodate up to 6 people from the same household, so you may be in the same room with other players. If you would like to ensure a private session, please book a Full Room Exclusive Ticket.

Each session is approximately 55 minutes in length and includes orientation and safety videos. Total gameplay is 45 minutes.