Marine Life
Marine Life is TEMPORARILY CLOSED EFFECTIVE MAY 4, 2021. Please check back for updates on the website and social channels
***
Booking is for Max group of 6 people from the same household. The 45-minute tours get you up-close and personal with invertebrates, sea turtle, penguins, nurse sharks and reptiles! Take photos and and learn about all of our species here at Marine Life during your exclusive tour! Visit our tickets page to see details on available days and hours. (Participants must be from the same household, face coverings are mandatory for the duration of the tour) 
PUBLIC VIRTUAL ANIMAL PRESENTATIONS NOW AVAILABLE FOR BOOKING!
MORE INFO ABOUT THE PRESENTATIONS HERE
Virtual Classroom sessions for LIVE distance learning NOW AVAILABLE FOR BOOKING bringing the Marine Life experience to you with programs that are designed to meet Alberta Curriculum standards. Please contact the Education Office at marinelife@wem.ca or call 780-444-5320 for Virtual Classroom session bookings and inquires.
*NEW* PENGUIN MEET AND GREET (TEMPORARILY UNAVAILABLE)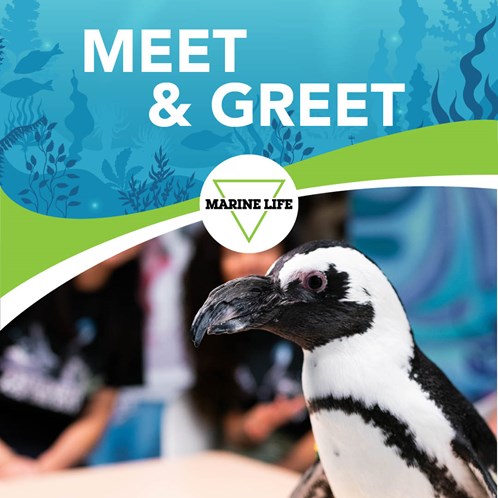 Booking is for Max group of 5 people from the same household. Guests will go behind the scenes and enjoy an up close and personal encounter with an African penguin. Learn about penguin biology, how we care for these beautiful birds as well conservation initiatives done on their behalf.
COVID-19 Update: WEM Announcement
PLEASE NOTE: As per Edmonton bylaw 19408 masks are required to enter this site
Explore Marine Life at Sea Life Caverns — an underground aquarium that is home to more than 100 species of fish, sharks, sea turtles, penguins, reptiles, amphibians and invertebrates — and at Sea Lions' Rock, home to four California sea lions that perform daily.
West Edmonton Mall Marine Life is committed to providing educational and conservation programs that enhance the experience of our guests by enriching their knowledge and encouraging respect and responsible management of all living creatures.
Call
Text