West Edmonton Mall Hotels
Enjoy the convenience of staying inside or just steps away from West Edmonton Mall in the heart of West Edmonton! Enjoy exclusive perks such as discounted attraction passes and MyWEM Rewards points. 
Fantasyland Hotel
Rooms from $178 per night.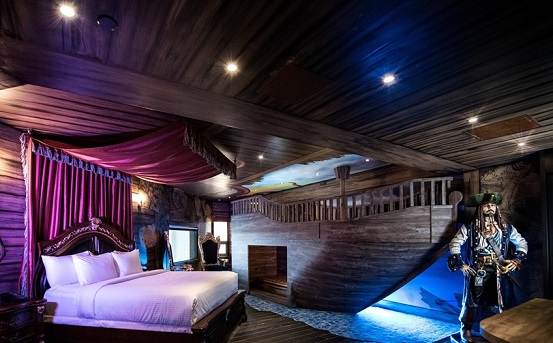 One of the world's most unique hotels located inside of West Edmonton Mall. Experience one-of-a-kind themed rooms including Pirate, Space, Polynesian and more. 
West Edmonton Mall Inn
Rooms from $124 per night.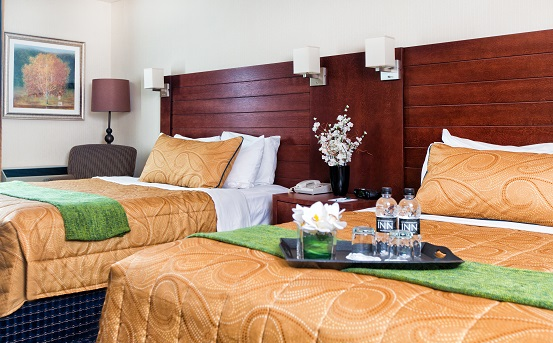 Enjoy the convenience of being just steps away from West Edmonton Mall. All rooms include free breakfast and free parking. 
L1 Lounge
From specialty liquors to a concise menu comprised of the most exquisite dishes, L1 Lounge caters to those with distinctive tastes.
L2 Grill
With its exclusive menu and fashionable decor, L2 Grill is boutique dining at its finest - a blend of unique soup, salad, meat and seafood dishes served in an intimate and alluring atmosphere.
---
Get ready for Back to School with WEM Inn! Stay with us from August 1 - September 30, 2021 and receive a WEM Gift Card and movie passes!
---
Excellent stay!!!
We have stayed at the fantasyland Hotel three times and we have never had a bad experience. It has always been awesome!!! The staff is friendly, the rooms are clean and we've enjoyed it every single time.
Lloydminster
Happiness in a hotel!
Between the food and activities it was a struggle to find an excuse to leave the premises. This is not the kind of break I would have thought enjoyable but believe me it will surprise you....
London, United Kingdom
Great family getaway to WEM
We really enjoyed the convenience and accessibility that Fantasyland Hotel provided to our family during our long weekend stay. We enjoyed access to Galaxyland, the Waterpark and especially the shopping.
Puerto Rico
Anyone Can Have a Good Time Here
The Hotel is very nice and the mall has everything for everyone in our opinion. The room we were in (not a theme room) was very spacious. It is close to the airport and public transportation is ample.
Lindsay, Canada
Great get away! Great deals for mid week stays!
We love this hotel. Very friendly staff, the location is prime and makes an adventure at the mall so convenient. I highly recommend this hotel. Mid week promotions make it a nice affordable mini vacation!
Sylvan Lake, Canada
It is definitely a fantasy land.
My boyfriend and I decided to make the Fantasyland Hotel our anniversary vacation this year. Neither of us have been before so we thought a theme room would be a great getaway.