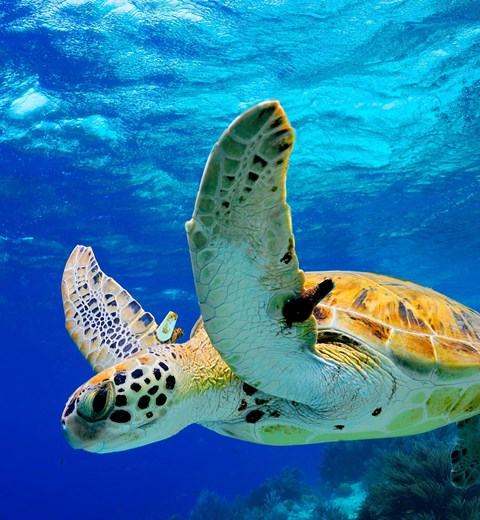 CAVERN QUEST BIRTHDAYS
Book our birthday party package, Caverns Quest and join us for an unforgettable underwater adventure at Sea Life Caverns! Dive into an hour of ultimate marine fun, where you'll embark on a thrilling tour of the stunning Sea Life Caverns. Explore the hidden wonders of the ocean depths while learning fascinating facts about our sea-dwelling friends!
Get up close and personal with our reptile animal presentation, where you'll have the
opportunity to interact with incredible reptile species. Learn all about their unique adaptations and why they are important to the 
world! Take a plunge into the enchanting world of marine invertebrates as you meet these fascinating creatures face-to-face. Discover the captivating lives of sea stars, sea urchins and many more amazing species!
And that's not all! Experience the incredible privilege of feeding our adorable sea turtles. Witness their graceful movements and learn how we can protect these gentle giants and their natural habitats!
For those seeking an extra dose of excitement, we offer an exclusive add-on: the chance to meet one of our charming penguins! Get up close, snap unforgettable photos, and create memories that will last a lifetime.
Marine Life birthday packages are available for booking for the below time slots daily 
10:00am to 11:00am
11:30 to 12:30pm
1:00pm to 2:00pm
2:30pm to 3:30pm
4:00pm to 5:00pm
$150 package
Birthday child FREE + admission for 10 friends!
2 FREE admissions for supervising adults
Private interaction and photo opportunities to capture on your own device with a variety of reptiles
Guided tour of Sea Life Caverns
Additional guests are $15 per person (Max. 30 guests)
Booking Basics
Birthday party packages may be booked for children 15 years of age or younger.
Birthday party packages must be booked at least 24 hours in advance.
No refunds are allowed once payment has been completed.
Prices and hours are subject to change without notice.
Parents and chaperones must supervise the party at all times. Admission fees for chaperones may be
applicable.
All regular park regulations must be followed.
Don't hesitate to contact us today, and let's make this birthday a splashing success! You can contact us at marinelife@wem.ca or call 780-444-5320 for more information.