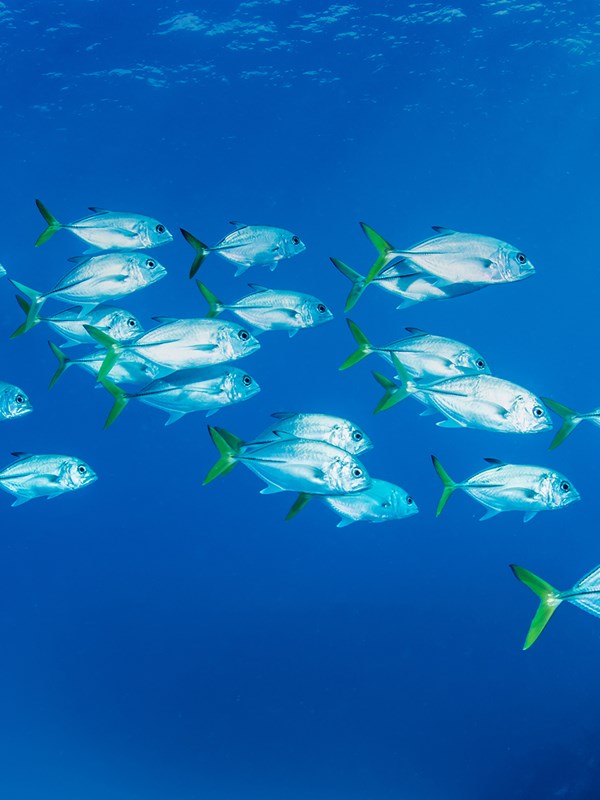 Crevalle Jack
Scientific Name Caranx hippos
Native To Temperate and tropical coasts of the eastern and western Atlantic Ocean
Habitat Coastal and outer reefs, lagoons and estuaries
Diet Small fish, prawns, crustaceans and molluscs
Size and Age 60 cm (23.6 in) long; lifespan up to 19 years
Natural History
Crevalle jacks are similar to other jacks, with deep elongated bodies and triangular pectoral, dorsal, and anal fins. They have a unique golden colour and a black tail, which are characteristic of this species.
These fish are powerful predators at every stage of life. Even as juveniles they attack and eat other fish. They do, however, hold a widely variable diet; their food sources will change by season and year.
Conservation Status
Despite local declines due to human exploitation, the global population size remains steady. Without major threats to its population, it is assessed to be of "Least Concern" by the International Union for Conservation of Nature (IUCN).
Interesting Facts
Young crevalle jacks, pushed north by currents tend to migrate to tropical waters before winter sets. If they don't, mass mortalities will occur if it gets too cold for them.
The largest fish of this species was reported to be 124 cm (48.8 in) long at 32 kg (70.5 lbs).