Surf Club
Join the West Edmonton Mall Surf Club and come surf at World Waterpark!
All year long, rain, snow, or shine, we offer surfing inside the World Waterpark for surfers ages 10 and up of all skill levels to come and experience surfing in the prairies. We believe everyone should be able to experience surfing away from the coasts; whether you want to simply give surfing a try or are looking to master the waves, our trained instructors will get you there!
The waves are waiting!
Surf Lessons-Available Soon
Experience riding the waves with other new surfers, under the supervision of our experienced instructors. Surf Lessons are a mandatory pre-requisite prior to becoming a member of our Surf Club.
Surf lessons are 90 minutes long.
Cost is $79 (plus GST); payment is required at time of booking, and includes use of surfboards.
Lessons must be pre-booked online.
Surfers must be ages 10 years and up.
World Waterpark offers private one-on-one and group surf lessons. For more information, please contact surf@wem.ca for more information.
Surf Club- Schedule 
West Edmonton Mall follows the COVID-19 policies and guidelines set out by Alberta Health Services and the City of Edmonton.
Effective September 3, 2021 a face covering that fully covers the nose, mouth, and chin must be worn at non aquatic areas such as lineups and changerooms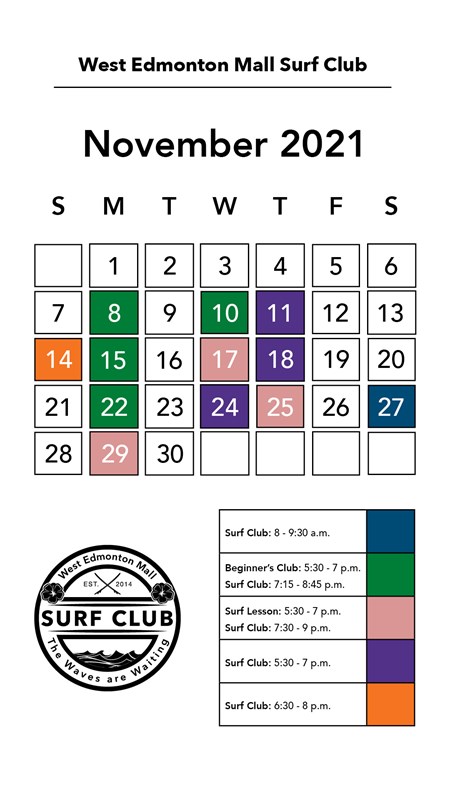 After the completion of the surf lesson, you will become a member of the West Edmonton Mall Surf Club! Surf Club is offered for those who want to improve their surfing skills, fitness, and surf year-round in a safe, controlled environment.
Please see calendar for details.
Single drop-in Surf Club session cost is $30.00 (plus GST).
Six-visit Surf Club punch pass cost is $150.00 (plus GST).
*Drop-in sessions and punch passes can only be purchased at World Waterpark Guest Services.
Surf Club sessions are subject to change without notice for required maintenance. Follow West Edmonton Mall Surf Club on Facebook for the most up-to-date information!