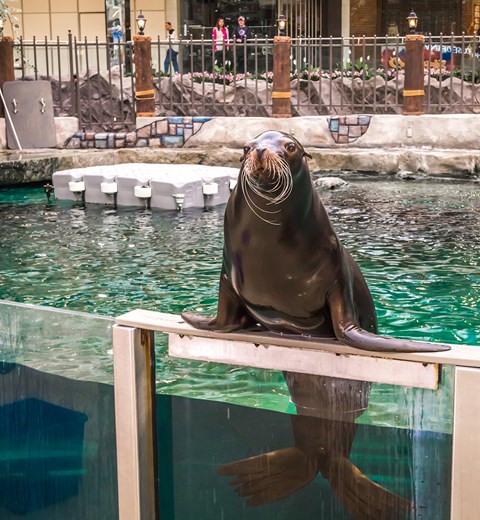 Sea Lion Encounter
This one-of-a-kind program is designed to let you meet our sea lions up close and personal. Get to know their unique personalities and characteristics by participating in an exciting sea lion training session.
During your Sea Lion Encounter Pablo, Kelpie, Clara, or Quinty will splash, interact, and teach you all about California sea lions. Together with animal care staff, you will learn about the training an care provided to these amazing animals in an experience you'll never forget! 
Itinerary - 1.5 Hours
Program itinerary is subject to availability, and can change without notice. Please confirm details at time of booking.
Meet at Marine Life Information Centre and proceed to orientation. If desk is closed, please wait. The trainer will come for you.
Get up close and personal with one or more of our California sea lions through a variety of interactions.
Photo opportunities with various poses with one or more of our sea lions.
Learn hands-on about the training and care provided.
Receive a unique painting created by a sea lion.
Self-guided tour of Sea Life Caverns.
Program ends.
To commemorate your visit, a USB with at least 30 photos of your experience is available for purchase for only $29.95.
Booking Information
Sessions are available from Thursday to Tuesday. Bookings require at least two business days' notice, and are subject to availability. Only one session is held daily and only four participants are allowed per session, so please book early.
Participants must be at least eight years old. Proof of age is required; please present government-issued identification.
The program cost is $149 per person. Payment must be made by phone or in person at the time of booking.
All participants must sign the liability waiver at the start of the program.
Participants aged 8 to 11 must have their parent or legal guardian participate in the program. 
Participants aged 12 to 17 must have a parent or legal guardian sign the liability waiver on the morning of their program, and can pick up the participant at the end of the program.
Participants will meet their trainer at Marine Life Information Centre. (If it is closed when you arrive, please wait. The trainer will come for you.)
Photography and recording devices are not permitted. A photographer will take photos throughout the program.
If you have special program requests, contact the Marine Life Education office.
BOOK TODAY! For more information or to book your Sea Lion Encounter call Marine Life Education at 780-444-5320, or e-mail marinelife@wem.ca