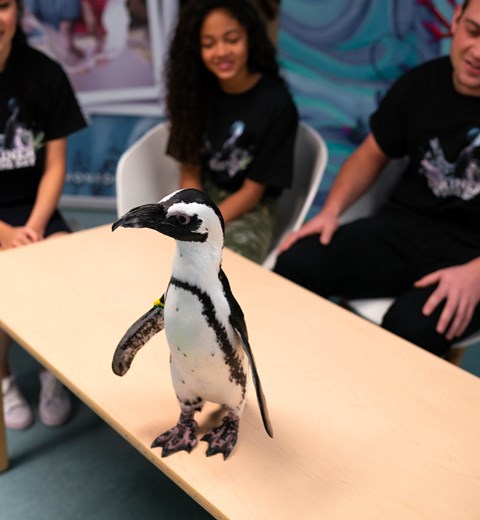 Penguins On Parade
PLEASE NOTE:
This program is currently being revision please stay tuned for updates.
Get up close and personal with our African Penguins!
Our Penguins on Parade program provides you with the opportunity to help prepare food for our penguins, watch a penguin feed from inside the penguin exhibit, and receive a private penguin presentation. You'll get to touch and hold one of our penguins who will create a special one of a kind footprint-painting for you to take home as a keepsake. Children as young as six years old can now participate when accompanied by a paid parent or legal guardian.
Morning and afternoon sessions are available seven days per week. Bookings require a minimum of two business days' notice and are subject to availability. There is a maximum of six guests per session.
Participants must be at least 6 years old and in good physical condition. Proof of age is required; please present government-issued identification.
The program cost is $125 per participant. Payment must be made by phone or in-person at the time of booking.
Participants aged 6 to 9 must also have their parent or legal guardian participate in the program.
Participants aged 10 to 17 must have a parent or legal guardian sign the waiver on the morning of their program. The parent or legal guardian is not required to stay for the duration of the program.
Participants must sign the required waiver prior to participating. The waiver will be provided on the morning of the program by Marine Life staff. Minors require a signature from a parent or legal guardian.
Participants will meet their trainer at Marine Life Information. (If it is closed when you arrive, please wait. The trainer will come for you.)
Rubber boots will be provided. Photography and recording devices are not permitted. A photographer will take photos throughout the program.
Itinerary
Orientation
Prepare fish for the penguin feed
Experience the sights and sounds inside the exhibit during the penguin feed
Private penguin presentation and painting
To commemorate your visit, a USB with at least 30 photos of your experience can be purchased for $29.95.
For more information or to book your program, call Marine Life Education at 780-444-5320, e-mail marinelife@wem.ca, or visit wem.ca.