The Edit: In Support of Shayla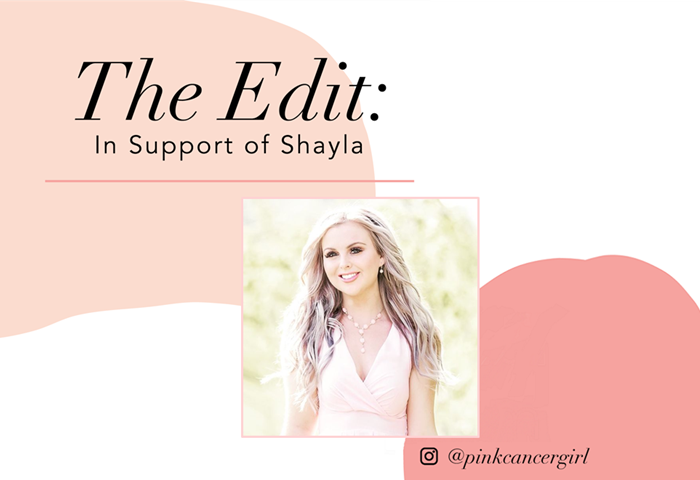 In this special edition of The Edit, shop a curated selection of items with a portion of proceeds going to support Shayla Wishloff, a 26 year old Edmontonian and Registered Nurse fighting Stage 4 Breast Cancer. 
As a Nurse, Shayla dedicated her time and energy to caring for others. She was diagnosed with breast cancer in 2019 and after undergoing chemotherapy, a double mastectomy, reconstructive surgery, and six weeks of radiation, her breast cancer spread to her lymph nodes and lungs. Having been told there was no further treatment options available in Canada, she set her sights on treatment options in the United States and has been accepted into a promising clinical trial for TIL Therapy. Shayla shares her journey and advocates for women's health on her Instagram account, Pink Cancer Girl.
A portion of proceeds from all the items below will go directly to Shayla's Go Fund Me to assist in her treatment and travel costs as she continues on her journey to beat breast cancer and spread awareness about the disease.
Reservation Info
To reserve an item, please click "Reserve Now" and fill out the form. A WEM Exclusive Services representative will be in contact with you to confirm product availability via your provided email address within 48 hours of your request. Once a reservation is confirmed through email, the product will be held for 48 hours for you to complete your purchase before it is released back into inventory. Reservations are not confirmed until you have received a response from WEM Exclusive Services. Reservation requests are honored on a first come, first serve basis.