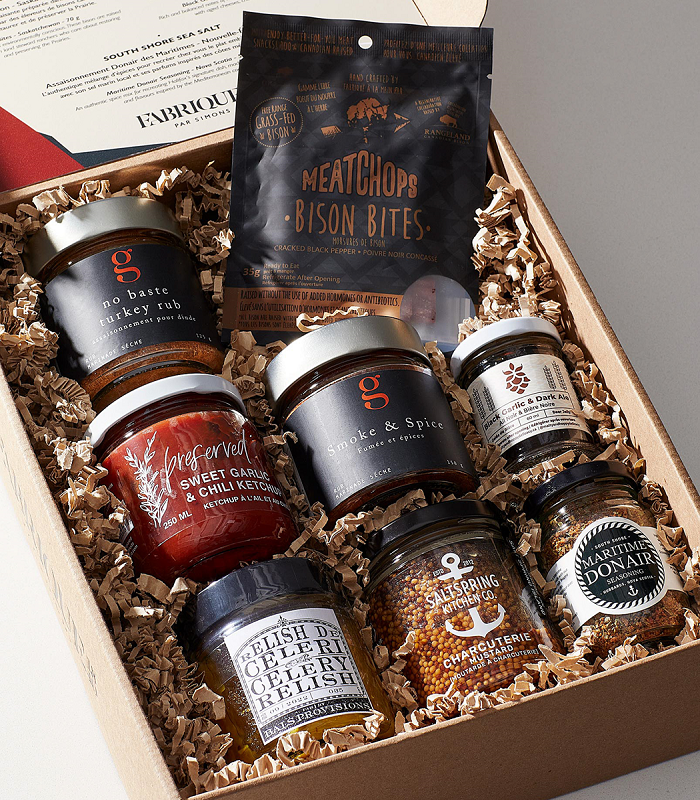 Simons Grill Master Gourmet Box
Details
Kick your grilling up a notch with Canadian products! Enhance epicureans' culinary experiences (including your own!) with the richness of local produce, reinterpreted by our coast to coast flavourmakers. This gift box features snacks, seasonings, and condiments to enhance barbecued food, sandwiches, cheeses, and grilled vegetables!

Allergy warning: rubs contain sesame, mustard contains mustard seeds and barley.

Products made in Canada using natural ingredients

The set includes:
• Sweet Garlic & Chili Ketchup by Preserved, Alberta (250 ml)
• Celery Relish by Bals Provisions, Quebec (212 ml)
• No Baste Turkey Rub by Gourmet Inspirations, Manitoba (120 g)
• Smoke & Spice Rub by Gourmet Inspirations, Manitoba (150 g)
• Maritime Donair Seasoning by South Shore Sea Salt, Nova Scotia (55 g)
• Black Garlic & Dark Ale Beer Jelly by Malty & Hoppy Delicacy, Ontario (60 ml)
• Bison Bites by Meat Chops, Saskatchewan (70 g)
• Charcuterie Mustard by Saltspring Kitchen Co., British Columbia (270 ml)
Stores
Reservation Info
To reserve an item, please click "Reserve Now" and fill out the form. A WEM Exclusive Services representative will be in contact with you to confirm product availability via your provided email address within 48 hours of your request. Once a reservation is confirmed through email, the product will be held for 48 hours for you to complete your purchase before it is released back into inventory. Reservations are not confirmed until you have received a response from WEM Exclusive Services. Reservation requests are honored on a first come, first serve basis.
Exclusive Services
Whether you're looking for the perfect gift, need advice on seasonal fashion trends, or would like a personalized and private shopping experience, our Exclusive Services experts have you covered. Book your appointment today!