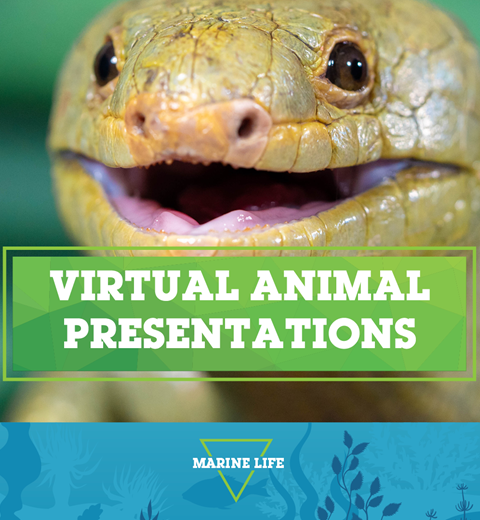 PUBLIC VIRTUAL ANIMAL PRESENTATIONS
Marine Life Education
Public Virtual Animal Presentation
Join our Education Staff for a live and interactive presentation to learn about our amazing animals. Presentations may include live animals, as well as photos and pre-recorded video of behind the scene moments not seen by the general public.
Our virtual presentations are designed with three things in mind
Engage participants with exploratory presentations that highlight animal fun facts.
Create learning experiences connected to our unique setting, our animals and their counterparts in their natural habitats, as well as highlight conservation issues and what we can do to save our planet.
Reconnect with Nature: Inspire compassion and action for wildlife and natural habitats.
Equipment Required:
Computer, tablet, phone or other media device (Smart TV) that has an internet connection and web browsing capabilities to view the presentation on.
An optional camera for a more engaging and interactive experience with the presenter and the household.
Please note: Presentations are held on a WEM-hosted platform called Microsoft Teams.
Participants will be contacted prior to their presentation date and given a link to access the presentation prior to the start time. Don't have the Teams app? You can still join a Teams meeting!
From your email invite, select Join Microsoft Teams Meeting, which will open a web page where you'll see two choices:


Download the Windows app
OR
Join on the web
If you join on the web, you can use either Microsoft Edge or Google Chrome. Your browser may ask if it's okay for Teams to use your microphone and camera. Be sure to allow it so you'll be seen and heard in your meeting.

Enter your name and choose your audio and video settings. If another device that's connected to the meeting is nearby, choose Audio off to avoid disruptions during the presentation. If watching or listening from a mobile phone, select Phone audio.
When you're ready, hit Join Now and you will be directed to the meeting lobby. The meeting organizer will be notified that you're there and will admit you to the presentation.
For an instructional video about Microsoft Teams, please review this link:
MS Teams instruction video
Pre-presentation Guest Set Up:
Eliminate distractions.
Join Teams from the app or on the web.
Check camera and microphone settings.
Guests can join the meeting 5-10 minutes before the start time of the presentation. Guests will arrive in a virtual lobby, after which they will be admitted to the presentation.
Presentation Expectations:
Guests will be muted for most of the presentation.
Guests are not permitted to record the presentation.
The presenter will be asking questions throughout the presentation which can be answered using the chat function or by using the raised hand icon.
Use the chat function when asking questions to the presenter.
Depending on the animal presentation, guests may submit questions beforehand to help prepare the presentation.
Virtual Programs Additional Information:
There is no age limit to attend our virtual presentations. We are excited to connect with participants of all ages.
All Virtual Programs must be registered a minimum of 2 days in advance of selected program date.
Virtual Programs are available on a first-come, first-served basis and fill up quickly. You may need to select another date and time if your preferred selection is not available.
Rescheduling and Rebooking:
If you need to reschedule or rebook your program, please contact Marine Life Education a minimum of 48 hours before your program date for availability available.
No shows on the day of your presentation will not be refunded or rescheduled.
In the event that Marine Life experiences technical issues, guests will be contacted to reschedule their presentations.

If you have any questions or concerns about your program, please contact the WEM Marine Life Education office at (780) 444-5320 or by email at marinelife@wem.ca.